Location: 320 Strategy Room, Morris J. Wosk Centre for Dialogue, 580 W. Hastings, Vancouver
This event is designed to engage BC educators and other key stakeholders in discussions about provincial assessments in British Columbia. It is hosted by the Measurement, Evaluation, and Research Methodology (MERM) program at the University of British Columbia (UBC).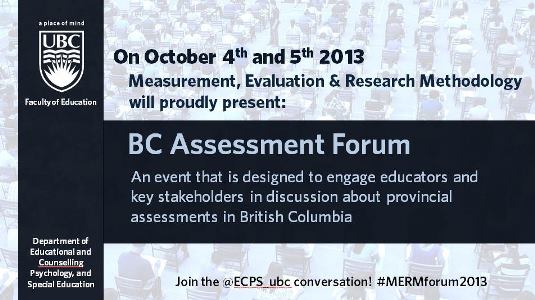 October 4, 2013 (3:45 pm – 6:00pm)
The BC Assessment Forum will be opened on Friday afternoon with a welcome message from Blye Frank, the Dean of Education (UBC).  Joan Herman will draw on her extensive understanding of school reform to give the keynote speech. Dr. Herman is the Co-Director Emeritus of the National Center for Research on Evaluation, Standards, and Student Testing (CRESST) at the University of California, Los Angeles (UCLA).  Attendees will then be invited to post questions or comments for the next day's discussion, and a wine and cheese reception will follow.
October 5, 2013 (9:00am – 5:00pm)
A full day of panel presentations and roundtable discussion will focus on key issues in the future of educational assessments in British Columbia.  Presenters include Charles Ungerleider (UBC) on the assessment of 21st century skills, Robin D. Tierney (UBC) on the role of classroom assessment, Kadriye Ercikan (UBC) on the merits of sampling versus census testing, and David Berliner (Arizona State University) on the link between assessment and inequity.  Jim Iker from the British Columbia Teachers' Federation (BCTF), Sam Muraca from the Vancouver School District, and David Chudnovsky from the Greater School Project will also be presenting their views on assessment use and implications. The goal of the day will be to collectively produce actionable points on where to go from here to ensure that educational assessments in British Columbia work well for students, parents, teachers, and schools. Lunch and nutrition breaks will be served.
For any questions regarding this event, or to RSVP, please contact Juliette Lyons-Thomas at jlyonsthomas (at) gmail.com.